Marshall Fire Lawyers
Legal Action Against Xcel Energy
If you or a loved one was affected by the Marshall Fire, you may be entitled to legal compensation to help you recover.
Whether you rent or own your property or were insured or not, you are still likely entitled to recover monies for your losses.
Our fire attorneys have years of experience in successfully recovering money for fire victims from power companies and other defendants. We know how to help you obtain the best results for your case.
Robins Cloud LLP is a nationwide trial law firm with a demonstrated history of success in obtaining top-dollar value for wildfire victims. If you were affected by the Marshall Fire in any way, dial (303) 622-0344 to schedule a free consultation with our law firm.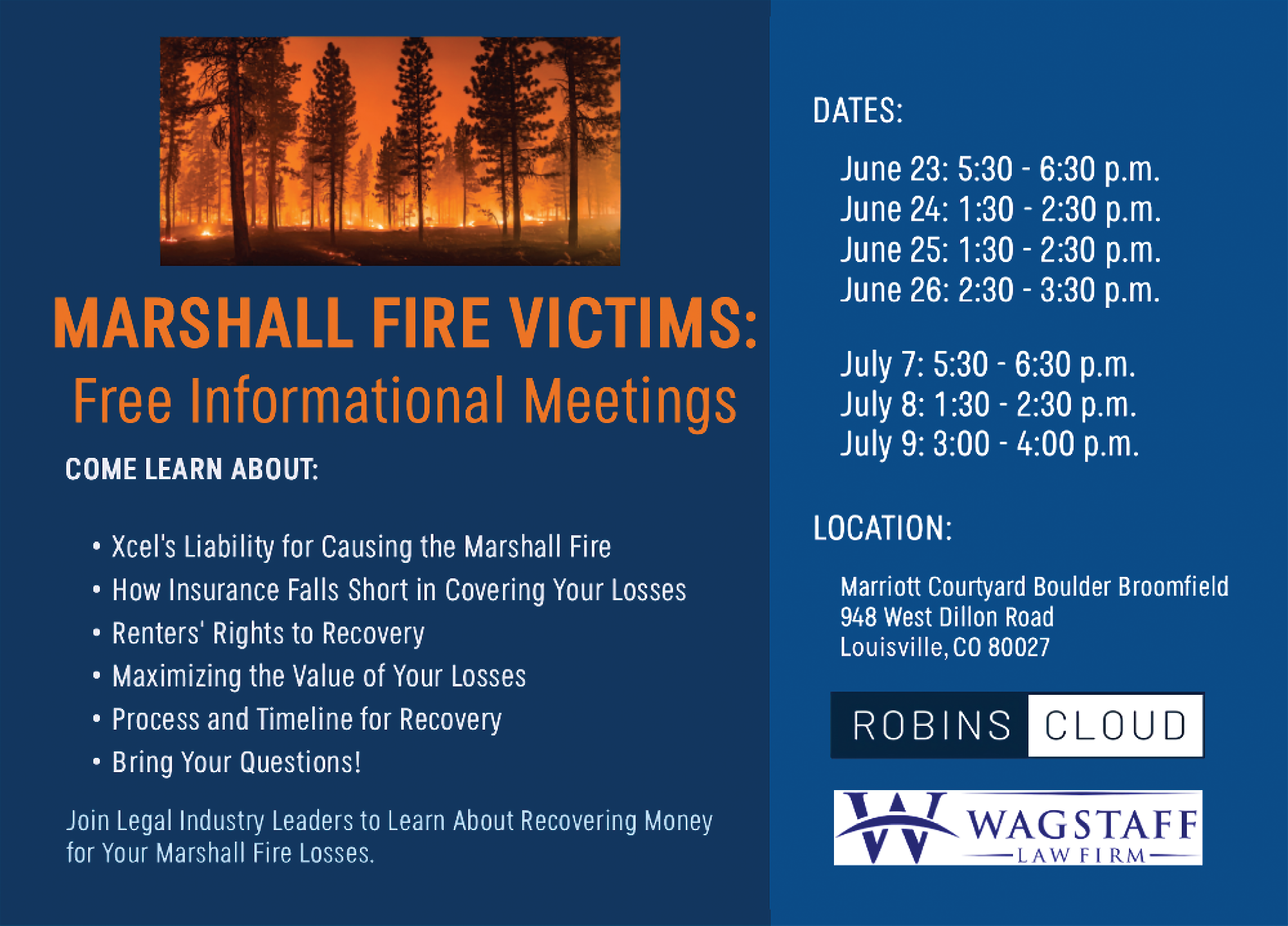 How Did the Marshall Fire Start?
The cause of the Marshall Fire is still under investigation but preliminary reports and available evidence (including video) indicate that sparks from a malfunctioning powerline owned and operated by Xcel Energy started the ground fire which ultimately destroyed nearly 1,100 homes, over 6,000 acres, and took the lives of at least two people. Sadly, the Marshall Fire also became the most destructive wildfire in Colorado history.
Robins Cloud LLP plans to file a lawsuit against Xcel Energy to hold the utility company accountable for its alleged failure to properly maintain, construct, and/or inspect its electrical equipment as required under the law, and to recover maximum compensation for the people and businesses who were impacted by the devastating Marshall Fire.
Marshall Fire Investigative Summary and Review
If You Experienced Any of the Following, You Could Be Eligible to Recover Money from Xcel Energy:
Damaged or destroyed homes or other structures
Damaged or destroyed personal property such as furniture, vehicles, tools, equipment, and other belongings
Damaged or destroyed trees and vegetation
Erosion following the fire
Clean-up costs
Bodily injury
Death of a loved one
Evacuation costs
Out-of-pocket costs
Emotional distress
Psychological impact
Loss of enjoyment of property
Lost business or personal income
Call Robins Cloud LLP Now
Please dial (303) 622-0344 now to connect with Robins Cloud LLP and our Marshall Fire attorneys. We are passionate about securing compensation for the wrongfully injured who deserve it the most. Thanks to our decades of collective experience, we are well-equipped to take on utility companies and obtain the maximum value for your wildfire case, no matter what it involves.
Ask about our contingency fees. Contact us online now.